Follicular Unit Transplantation
Follicular Unit Transplantation (FUT) also known as 'strip' is a procedure where hair is transplanted from the permanent zone, the area in the back and sides of the scalp where hair is more resistant to balding, to the bald or balding areas of the scalp. This is accomplished using naturally-occurring groups of 1, 2, 3, or 4 hairs, called follicular units. After the patient's scalp is anesthetized, the doctor removes a strip of tissue from the donor area, an area within the permanent zone, and, once extracted, the donor strip is cut into many individual follicular units using microscopic dissection techniques. As these follicular unit grafts are being prepared, the doctor makes tiny holes in the scalp, called recipient sites, where the grafts are placed.
The final aesthetic result will be determined by the strategic placement of these grafts, this is a highly skilled task that can only be achieved from experienced transplant surgeons who not only have the skill to complete the process but who also have the aesthetic artistry to get a truly pleasing natural result.  This is really where selecting a transplant surgeon comes down to the small details as it is the actual final result that is what you are looking for that counts.  Dr Feller has an incredible skill level in both transplantation and artistry to get the best possible result for that individual.
See result for FUT/STRIP transplants here
Dissection of  follicular units
Once the donor area strip has been harvested the strip is then taken to a specilaized team of  staff who begin dissecting the strip into their individual units of 1,23, and 4 hair units.  These are done under very high powered microscopes within the facility
Trichophytic  closure
"Trichophytic" donor closure technique ("tricho") provides improved camouflage of a linear donor scar in Follicular Unit Transplantation (FUT). Normally, in FUT, the surrounding hair easily covers the scar. For some patients with very short hairstyles, the resulting donor scar may be visible. With the trichophytic closure technique one of the wound edges is effectively trimmed to create a slight bevelled edge this allows the edges to overlap each other and the hair to grow directly through the donor scar. This can significantly improve the appearance of the donor area in patients who wear their hair very short.
The trichophytic donor closure can be used on patients who have had previous hair transplant procedures and are looking for improvement in the camouflage of their donor scar. It is also used in patients in their first hair restoration procedure. It is particularly useful in repair or corrective work.
Follicular Unit Extraction (FUE)
Dr. Feller has been on the very leading edge of this procedure and has been performing FUE since it's introduction into North America in 2002. He has invented and patented new tools specifically for FUE and his techniques and protocols have been written about in the leading text on surgical hair restoration.
All of that was the upside of FUE, the downside is that this new procedure is much more labor intensive and time consuming; meaning it costs more to perform and far fewer grafts can be obtained in a single session when compared to traditional strip harvesting. Another downside is that not all patients are candidates for the procedure. Most are, but some are not. You will need to speak with Dr. Feller to learn more about your potential as an FUE candidate.

Follicular Unit Extraction, or FUE, has established itself as the next step in the evolution of the modern hair transplant industry. We at Feller Medical, PC have been practicing and studying this method in detail since 2002 and have determined that FUE is, in fact, a viable adjunct or even alternative to standard strip surgery in certain patients.
Rather than removing a strip from the donor area to obtain hair grafts, very fine holes are made in the back and side of the scalp that don't exceed .9mm in diameter. While this method will produce far more scarring than the standard strip technique, this additional scarring is far LESS VISIBLE and is therefore more attractive to many patients who chose to buzz cut their hair very short.
FUE can be used solely as a means to recreate hairlines and cover bald skin, or it can be used in conjunction with the standard strip procedure to increase the number of grafts obtainable during a single surgery without increasing the size of the strip scar. FUE may also be used as a means to repair scarring from older obsolete hair transplant surgeries.
Articles on FUE by Dr Alan Feller
What are the negatives to FUE over FUT?
When it comes to hair transplant surgery, there can be no question that growth from follicular unit extraction (FUE) cases is not as consistent as that of strip procedures. The reason is obvious: the amount of trauma the follicular unit grafts must endure during FUE surgery, even the very best and meticulous FUE surgery, is far greater than the amount of trauma experienced by the equivalent FUT grafts. It's a simple matter of physics.
That said, hair follicles are pretty hearty. Ask anyone who's undergone multiple waxings, electrolysis, and laser hair removal. Those little guys will often endure all of that and still come back.
FUE is a great procedure, but it is very exhausting and time consuming even on the best hair restoration surgeons. Smaller cases usually do better because lack of fatigue can make the difference between hurting a graft and not hurting a graft. Also, if 10% of 300 grafts don't grow, it's not nearly as obvious compared to 10% of 1,500 grafts. That is, you probably won't miss 30 grafts out of 300, but you most certainly will miss 150 grafts out of 1,500. The bigger the number of FUE gets, the more the equation works against the final result.
There have been some absolutely awesome FUE results in the larger ranges, but I have yet to see anywhere near the same consistency compared to follicular unit transplantation (FUT). Should a large FUE fail, it likely will not be reported online for several obvious reasons. But do an online search and look for even the best FUE results and then compare them to that of strip consistency and presence and there's no contest.
FUE is a viable option for some patients. In fact, it may be the ONLY option for some patients but its failure rates are higher and this fact must be acknowledged, digested, and accepted before going for this procedure. Of course the same may be said for strip, but FUE is at the greatest disadvantage on this point.
Choose with your head, not with your heart. Of course no one wants a linear scar in the back of their head. Come to think of it, nobody wants an incision in the back of their head either, but most of the hesitation to have strip surgery comes from fear. Meet with your doctor and if you have trust and faith in the plan you arrive at together, then submit yourself and go for it. Strip or FUE.
Dr. Alan Feller

Is FUE as reliable as FUT/STRIP surgery?
In my opinion, based on regular FUE (Follicular Unit Extraction) experience since the introduction of FUE to the western hemisphere, I can say with confidence that FUE is simply not as reliable as strip (Follicular Unit Transplant) with respect to consistent yields. I have discussed this reality with several other FUE hair transplant doctors whom I admire and respect and their conclusions are the same.
The easiest way to settle the issue is to ask each hair restoration doctor who claims that their procedure is equal to (or better than) strip to demonstrate their surgery on YouTube and then compare it to procedures by those physicians, like me, who don't make such claims. If the viewer can discern any significant difference in the amount of traction, compression, and torsion strain on the follicular unit graft during extraction then perhaps the case may be made. For now, no doctor claiming to produce equal hair growth yields will demonstrate to the public how they perform their hair transplant procedures which implies a "secret ingredient" which is never actually claimed but always implied.
It's the old FUE hype story, plain and simple.
There are, of course, some success stories, particularly in the hands of the most experienced follicular unit extraction practitioners, but there simply are not enough results to compare to strip surgery. This is because there are not nearly enough dedicated FUE doctors and also due to the surge in technology and capability of strip surgeons.
Dr. Alan Feller
Is it better to do FUT before a FUE surgery?
Because there is no agreed upon terminology for follicular unit extraction (FUE)procedures it is difficult to have a conversation about it because key words mean different things to different people. Right now FUE is NOT a scientific discipline. It is art, and as art it is difficult to describe accurately.
Unfortunately it is the lack of agreed upon definitions that allows ten different clinics to SOUND like they are offering ten different forms of FUE, when in fact they are mostly the same. That said I will move on to your questions the way I read them:
No, it's not impossible to get fantastic numbers of follicular unit extraction (FUE) on certain hair transplant patients. Dr. Jones and DHI were performing 2,000+ surgeries in a "day" as far back as 2003.
But you are confusing terms:
"Yield" refers strictly to successfully growing follicular unit grafts. Obviously this can only be determined months after the hair replacement procedure.
"Extraction" is not the same as "graft". Sometimes you will get out a single follicle. Other times you may pull out 2 complete follicular units. How do you count them? In the former you could equate one extraction with one hair graft. In the latter you coud equate one extraction with two hair grafts. Confusing, eh?
Other confusing terms are "day" and "procedure". If a patient is worked on for 16 hours during a 24 hour "day" and does this twice, then there is plenty of time to remove literally thousands of follicular unit grafts. This is what I've called "the brute force" method of follicular unit extraction hair transplantation.    This has already been used by many follicular unit extraction (FUE) hair transplant  clinics with little success and even less consistency of success.
Right behind the ethereal term "day" is "procedure".   Some hair transplant surgeons  will (wrongfully) claim that if a hair restoration patient visits the operating room 3 or 4 days in a row that the patient had undergone just "one" procedure. I personally find this to be purposefully and willfully misleading not only to the patient, but to the potential patients who might read the description of 3 days of surgery as ONE procedure. Trust me, if insurance companies were paying for the hair transplant, these clinics would certainly NOT be calling 3 days of work just ONE procedure.
REMOVING thousands of follicular unit grafts over a 48 hour period using several teams is not impossible. Like I said, it has been done for years. The question is how well will all these grafts grow? What is the true hair growth "yield"?   To date I have seen virtually no evidence that follicular unit extraction (FUE) hair transplant megasessions can be counted on for CONSISTENT success when compared to follicular unit hair transplantation (FUT) / strip surgery (FUSS). OF COURSE there will be successes, but how many hair restoration patients in total were operated on to produce a few showcase patients? Y ou as the general public will never know unless the hair transplant clinic you are considering is fully transparent. How do you find out if a clinic is transparent? Simple, find out if the doctor and his technique have been peer reviewed. Then ask to watch a procedure and if you can bring a video camera. It doesn't get much more transparent then that.
"Trauma" is another confusing term when applied to follicular unit extraction (FUE), but yes, a larger area of skin will be traumatized and forced to reorganize itself after a follicular unit extraction (FUE) "insult". When you tally up the total surface of area of skin affected by the two hair replacement  procedures, follicular unit extraction (FUE) will total 10 times as much "trauma" as a comparable sized follicular unit hair transplantation (FUT) / strip surgery. While this is not so much of a problem at the time of the FUE, it becomes a considerable issue only a few months after the fact because the skin will tend to harden due to the deposition of scar tissue around each hole. When these rings of scar tissue fan out, they ultimately coalesce together to form a "sheet of scarring". Further follicular unit extraction (FUE) in skin like this is very difficult and the number of successful attempts drops.
In other words, the fewer times you have to cut the skin, the better. This axiom serves the whole of the surgical field, not just FUE. It's also common sense.
I agree that it is best to "strip" out a patient before moving to FUE.   In other words, follicular unit extraction (FUE) is better used after all the available donor hair is used during follicular unit hair transplantation (FUT) / strip surgery.
I believe if something can be imagined, it can be done. So removing and re-implanting even 7,000 FUE grafts is possible. But in order to do so with consistent hair growth yields approaching strip requires a new paradigm and a hardy leap in technology. Again, this is possible, but I have seen no evidence of such a leap in technology nor consistency of FUE results. It WILL happen, and I for one hope it does soon. But for now I will remain skeptical about FUE megasessions and trust that smart and motivated hair restoration physicians will keep working out the problems to bring follicular unit extraction (FUE) to the point where it can actually replace strip as the mainstream of hair transplantation.
If I were to have another hair transplant tomorrow, you can safely bet the house that I would choose STRIP over FUE. But ten years from now…who knows?
Dr. Alan Feller
Introduction of new tool revolutionizing FUE transplantation by Dr Alan Feller
I would like to announce the unveiling of a new tool designed specifically for the performance of Follicular Unit Extraction (FUE) surgery. It is my hope that every hair transplant doctor already performing FUE surgery, or those who would simply like to start offering this wonderful procedure to their patients, will explore this new tool and perhaps add it to their own clinical practice.
Incorporated into its design are practical solutions to problems that have plagued the follicular unit extraction industry since it's introduction to the Western Hemisphere in 2001. Deleterious forces resulting in graft damage during FUE procedures such as: Torsion, Traction, Compression, Overheating, and Desiccation are addressed and minimized using this new instrument like none other.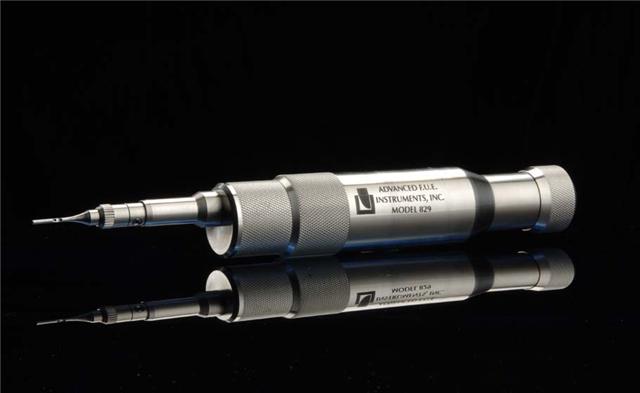 This tool also offers the unique combination of lowering operator skill level requirements while actuallyraising the quality of each and every extraction. This translates to faster "ramp-up" times for new hair restoration doctors interested in adding FUE Hair Transplant surgery to their practices; as well as making for easy and near seamless integration into clinics that already offer FUE to their patients.
This device allows not only for greater quality of extraction, but greater speed as well. Much greater. And all without any extra risk to the grafts themselves. The same cannot be said of other FUE tools on the market.
All these unique benefits result in far less fatigue for the doctors, technicians, and patients. It's important not to forget this all important (but often ignored) human factor because in the end any "work product" will only be as good as the vitality, enthusiasm, and confidence possessed by the doctor and team at the time of the procedure.
The obvious purpose of the tool is to facilitate the FUE procedure for practitioners; but that is only part of a far greater strategy: the sparking of a new and legitimate industry that's inclusive of all practitioners-novice and veteran alike.
The bigger picture is to elevate the current "cottage industry" status of FUE to a more mainstream role in hair transplantation; and to forever strip away the mystery, hype, and secrecy with which it has been unnecessarily surrounded by since it's inception.
All clinics are welcome to this tool. I will not veil it in secrecy nor will I falsely claim it as the "magic wand" of FUE. As a veteran FUE practitioner I could claim this device solely for my own  clinics and advertise it as such to gain a competitive edge.
However, for this field to grow, the credibility and exposure of the FUE technique must increase, and I can think of no better way to achieve this than offering a device that makes it easier for hundreds or thousands of other doctors to get into the FUE field themselves. Once they get a taste of the success I've had with FUE over the past 7 years, a greater number of doctors will join the FUE ranks. More successful FUE practitioners means greater numbers of satisfied patients, and thus a more popular procedure with ever increasing demand. Everyone wins.
My company, Advanced FUE Tools, Inc. is not just some name I slapped on the door of my current hair transplant practice clinics just to sell a few tools. Rather, it is a well supported and financed group of businessmen, master-machinists, draftsmen, technicians, problem-solvers, thinkers, and attorneys, who have dedicated themselves to the development of this product for years. Like an actual FUE procedure,teamwork is what made this device not only a reality, but a clinically practical and useful one at that.
I've used this tool, or fundamental aspects of it, through various generations of such devices for just about every FUE procedure that I've posted on the web since 2003. This means it has been used and tested for years.
Each component of this device taken in-and-of itself separately, or combined as one device, has a proven "real-world" track record. This established pedigree was something I insisted on for years before going public with it. Now is the time for this tool to join the pantheon of practical medical devices that helped form and shape hair transplantation into the enormously successful industry it has become.
I have avoided lengthy technical detail in this write-up as I felt it went beyond the scope of an introduction. Doctors may of course contact me directly if they have any specific questions or concerns.
I will be offering much more information and multi-media about the device in the near future, but wanted to introduce not only the device, but some of the thought and philosophy that made the design and production of this new FUE instrument a reality.
Dr. Alan Feller